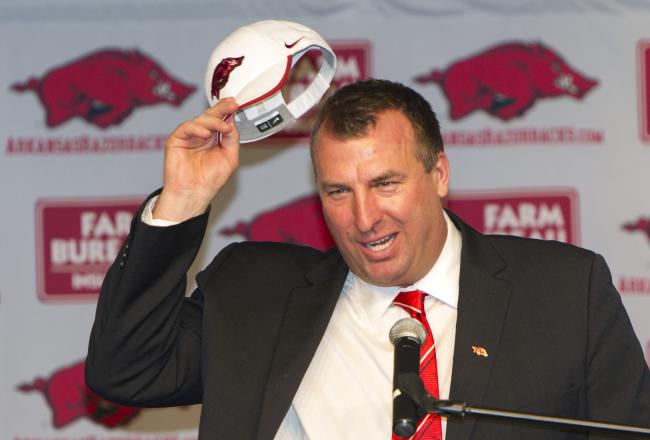 Date: December 4
Location: Madison, Wisconsin
Easily the most surprising moment on the list. Not one person saw this coming. Not one.
After dispatching of Nebraska in the Big Ten title game, the up-and-down Wisconsin Badgers were heading back to the Rose Bowl, a place the Badgers have experienced nightmares of late. Can Bret Bielema finally win in Pasadena? Well, as the narrator of the Tootsie Pop commercials says, "The world may never know."
Bielema took the vacant Arkansas job, leaving Badger Nation with a sense of surprised acceptance. Despite great records and consistent success, Badger fans never took to Bret Bielema. Failure to win big road games, poor clock management, and lack of bowl game success were part of the problems. Bielema's pedestal-like stance on the Big Ten and college football may have factored in. Whatever the reasons were, no one was really upset that Bret was gone. Just…stunned. And you'll find very few who believe the Wisconsin program is now in trouble.
What followed was the re-emergence of Barry Alvarez, who announced he would coach the Rose Bowl. A two-week search led to Utah State head coach Gary Anderson taking the job, and captivating the fan base. It also gave us one of the most entertaining press conferences of the year, when Barry announced his intention to coach the Rose Bowl. It also gave us angry Barry, who didn't appreciate how the poaching of Bret Bielema went down and Bielema's comments about the failure to retain coaches and wanting to win a championship. If the Wisconsin program is playing little brother to someone, don't tell Barry Alvarez.
The last month has seen upheaval in a perennially stable program. But rarely has this much discourse been so…positive. A spark's been re-lit in the Badger faithful. And who knows, it may translate to a win over Stanford on Tuesday.
So, on behalf of the Badger faithful who have rarely uttered this phrase…thank you, Bret. While shocking, your departure may have been the best thing for the Wisconsin Badgers in decades.
Number one tomorrow. A hint…it involves a team that has yet to be mentioned in this list.
10. Montee Ball Breaks NCAA Touchdown Record
9. Raffi Torres Hits Marian Hossa
8. Dan Appino Goes To Auburn
7. Aaron Rodgers Named NFL MVP
6. The Fail Mary
5. Ryan Braun Wins Appeal Of Drug Suspension
4. NIU Crashes Into BCS
3. Bears Fire Jerry Angelo
2. Bret Bielema Leaves Wisconsin
1. ???